"It is hard to be funny when you have to be clean," Mae West
We all need a sink to clean up in, and the proliferation of great designer vessel sinks has opened a world of possibilities to recycle all manner of antique cabinets, chests and tables as vanity cabinets. Endless design possibilities can create a truly unique bathroom in almost any style. Juxtaposing historic pieces with contemporary fittings generates excitement, and many vessel sinks cleverly mounted on cabinets are really works of art. Sinks are available in countless styles and colors of glass, painted porcelain, brass, copper and nickel. Faucets have many different finishes in traditional and modern configurations. Antique and vintage dressers, sideboards, writing tables, work benches, and baker's tables can all be recycled into sink cabinets that are one of a kind, reflecting your individual taste and creativity. Many of these pieces are much less expensive than than the charmless mass-produced cabinets seen in home centers and bath design shops. It takes a little more planning and vision, but the result is certainly worthwhile.
This example uses a late Victorian or Eastlake washstand from the 1880's. Originally made for a bedroom in the days before plumbing, a bowl and pitcher would have sat on the marble top, and the waste jug would have been behind the door on the bottom. Built of solid walnut, the original beveled mirror and marble top were fitted to accommodate a glass vessel sink and brushed nickel contemporary faucet. The stunning result is functional and truly unique. A craftsman easily drilled the marble top, made adjustments to the interior of the chest, and the installation was relatively simple. The result is an elegant and historic look.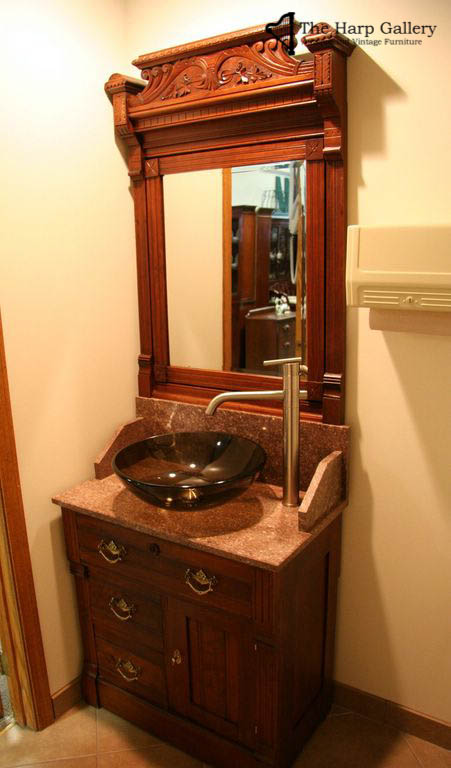 Another bathroom recycles an Art Deco cabinet from about 1930 that was meant to hold sheet music next to a piano. Now fitted with a textured glass vessel sink and a waterfall faucet, this adaptation of an antique piece was even simpler. Compact enough for a small bathroom, this installation is bright and cheerful with the clean, sleek lines of the 1930's.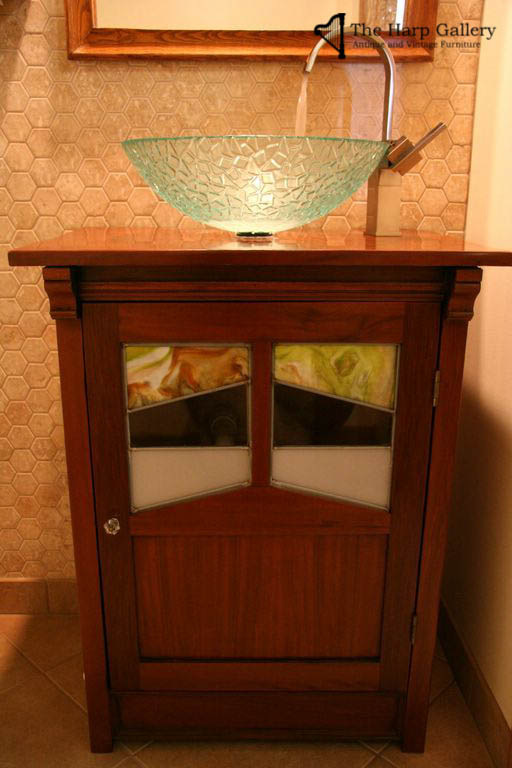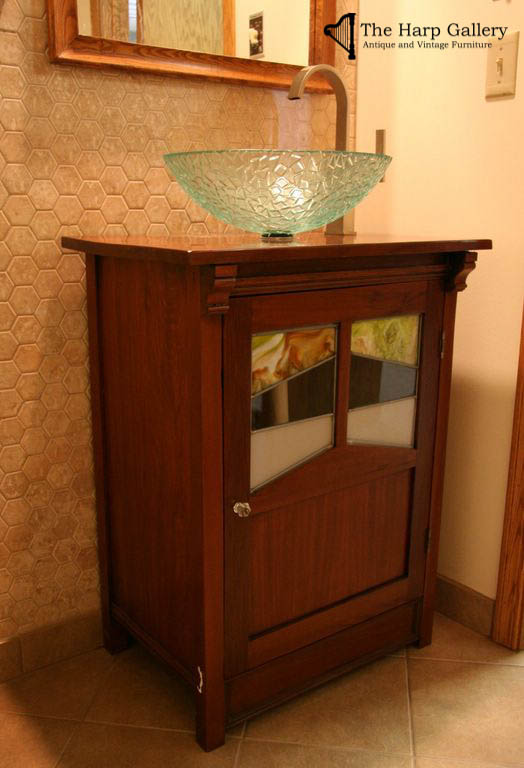 Countless antique and vintage pieces of furniture can be adapted to hold a sink. I suggest ignoring the original function of the furniture, judge how much the piece appeals to you, and consider its size and scale for your project. Take the time to find a piece you really like to live with. As Willie Nelson says, "The early bird may get the worm, but the second mouse gets the cheese." Bathroom sinks can be so much more fun than the "hospital equipment" look of the past. Surprisingly, historic cabinets are the latest innovation not only in bathrooms, but in kitchens as well, anywhere a sink would be convenient. Go for an exciting or timeless look – "Exuberance is beauty," according to William Blake. Of course, recycling a historic piece is so much better for our environment as well.