Dovetail joints often hold two boards together in a box or drawer, almost like interlocking the fingertips of your hands. As the dovetail joint evolved through the last one hundred thirty years, it becomes a clue for the age and authenticity of antique furniture. The type of dovetailed joint, especially in drawers, reveals much about furniture construction and dating. With just a little study of these examples, it is easy to spot true hand made construction vs. machine made furniture.
The name "dovetail" comes from the appearance of the joint, resembling the triangle shape of a bird's tail. The earliest examples are from furniture placed with mummies in Egypt thousands of years ago, and also in the burials of ancient Chinese emperors.
For thousands of years, a dovetail joint was created by a skilled cabinetmaker using small, precision saws and wood chisels. Tiny angled saw cuts were followed by careful cutting by a sharpened chisel on both sides to avoid splintering. One board had tiny "tails," and the other had the larger "pins," carefully measured to match and fit together exactly. When the joint is expertly executed, it is a thing of beauty, and a secure joining of two boards that can last for centuries. A little glue cements the connection, and a good dovetail joint has great strength and durability.
This secretary desk from about 1780 was built by a good country carpenter, notice the dovetails on the side of the drawer, and holding the top and side planks together as well.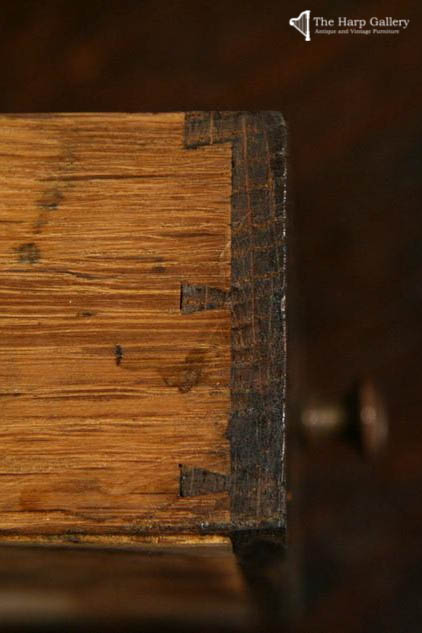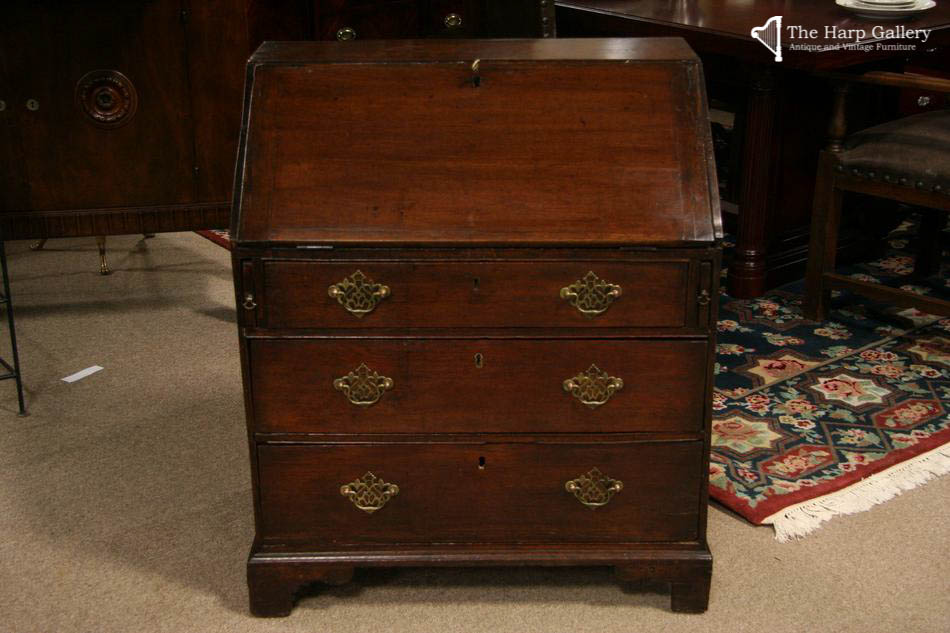 Hand cut dovetails were used to hold the sides of drawers together, but also to join the structural members of case furniture. Hand made screws and nails were relatively expensive and could rust and expand, sometimes cracking the wood they secured. Glues of the period sometimes weakened. Dovetails have great strength, holding pieces of wood in perfect alignment over long periods of time. This lavishly hand-carved cabinet from about 1890 shows structural dovetail joints on the back side.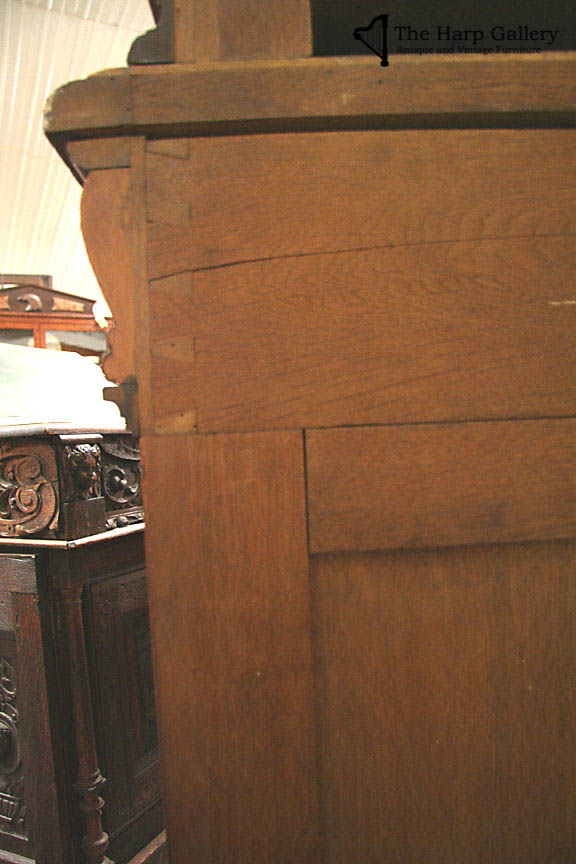 Simpler country furniture often had larger dovetails, or even a single tail and pin. This country pine cupboard from the 1890's has big country dovetails: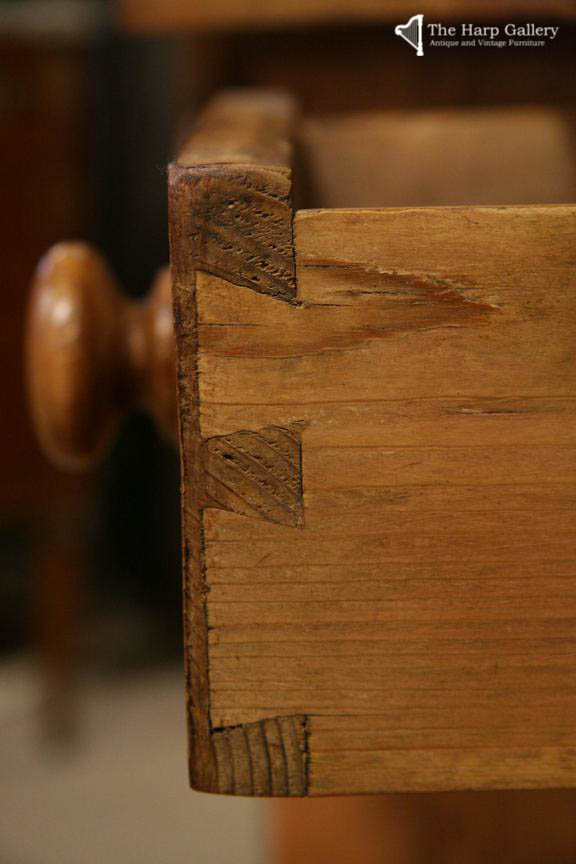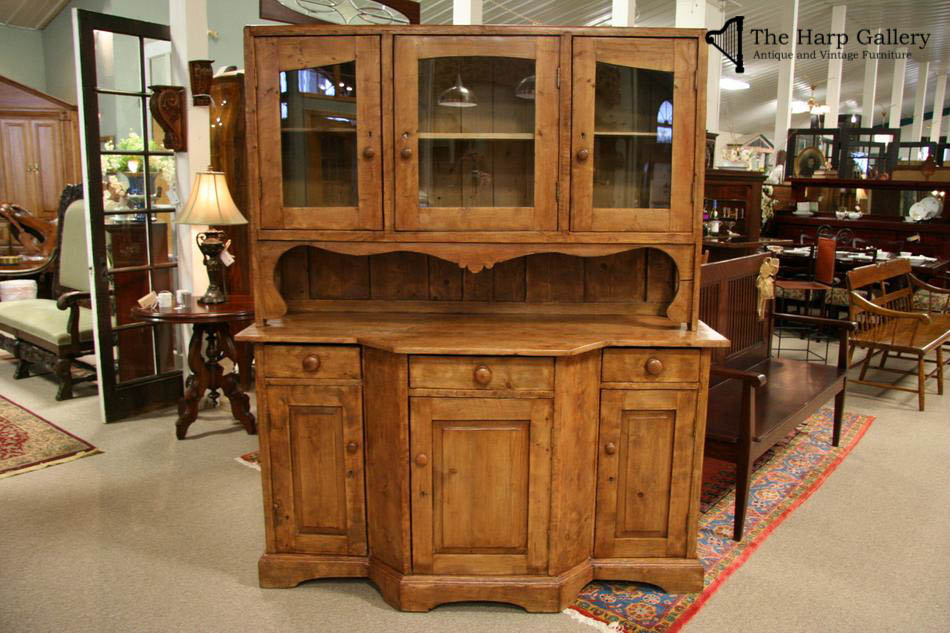 Genuine hand made dovetails like these were the standard of good furniture craftsmanship until about 1870, when American ingenuity developed the "pin and cove" or round style dovetail, often seen on late Victorian and Eastlake furniture. These were cut with a jig or pattern, and an apprentice could create a very well fitting and attractive joint. Popular here into the 1890's, these joints never gained acceptance outside of the U.S. and Canada. European cabinetmakers continued their hand-cut dovetails well into the 1900's.
Here is an example of an Eastlake chest of drawers with characteristic "spoon" carving and "pin and cove" dovetails from the 1880's: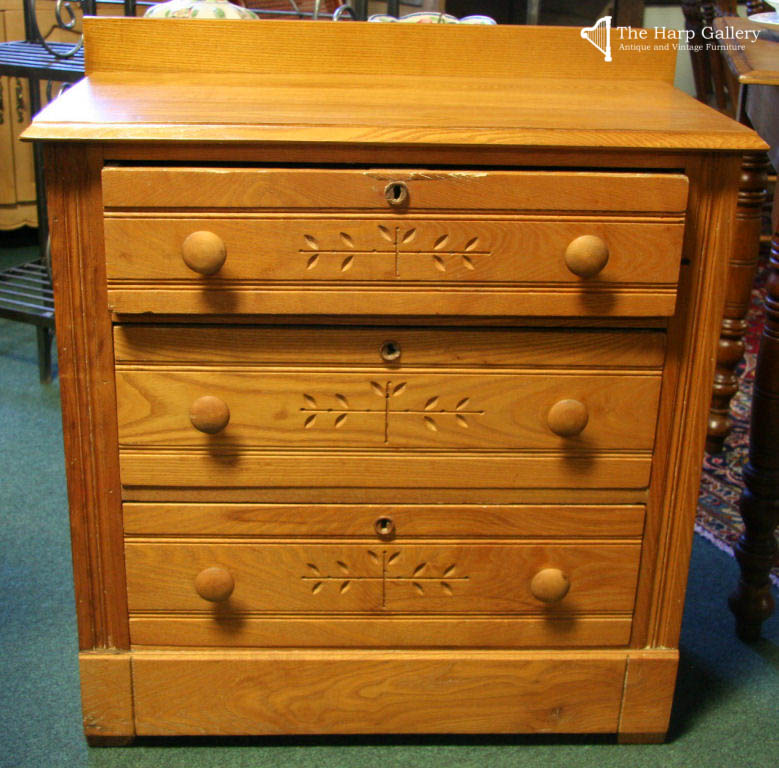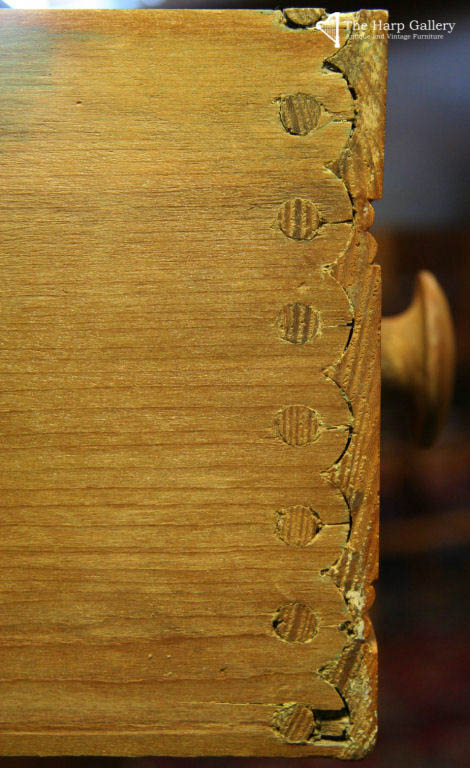 The next technological development in joinery was again American. In the 1890's, American furniture began to be mass produced, with interchangeable parts and speedy production for the growing and affluent middle class. The slow and laborious crafting and carving, one piece at a time, by a master woodworker was not suited to the new mass market. Steam power, transferred by pulleys and leather belts, operated saws, carving machines and routers that could copy an original pattern exactly.
These routers were ancestors of the electric precision tools of today, and could be used to rapidly cut a machined dovetail joint. Each cut is exactly like the others, each "tail" and "pin" are exactly matched. A close inspection shows no irregular saw cuts or variation from a skilled craftsman, but rather a precise and identical manufactured machined joint. These machine-cut dovetails are as strong and long lasting as the hand-made joints, and became the standard of better American furniture ever since the late 1890's. Here is an early example of machine-cut dovetails on a 1920's sideboard from a dining set: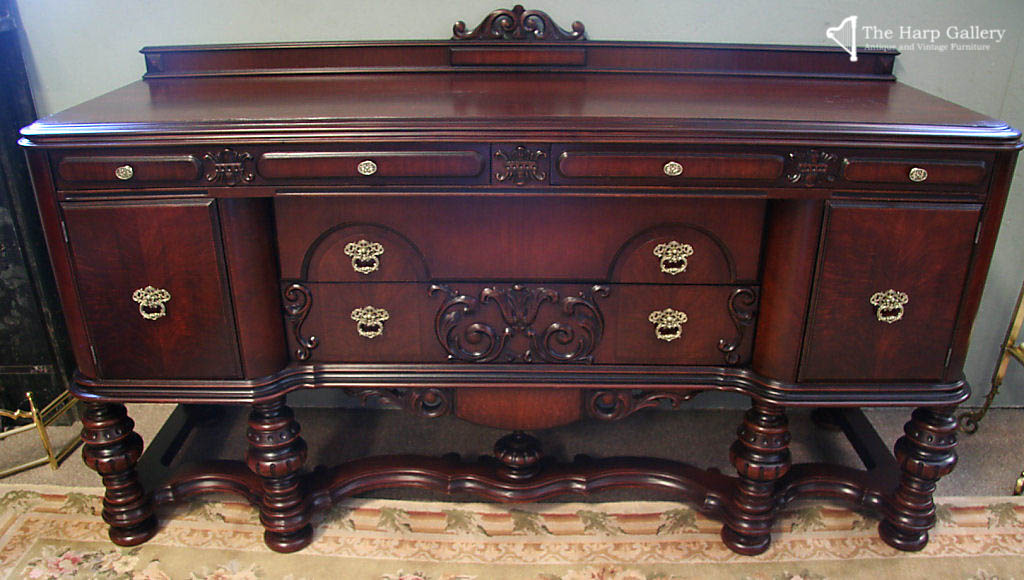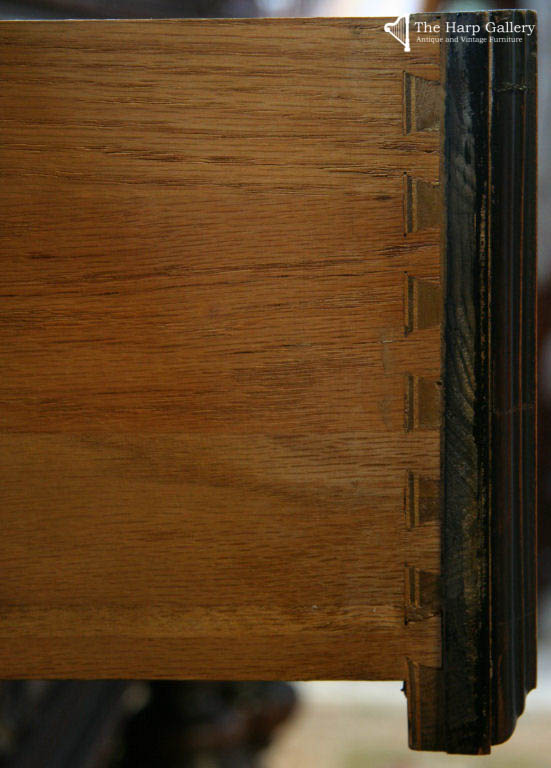 Other drawer joints include sliding keyhole or French dovetails that were have been used since the 1890's. Here is an oak cylinder roll desk from about 1895 with keyhole dovetailed drawers.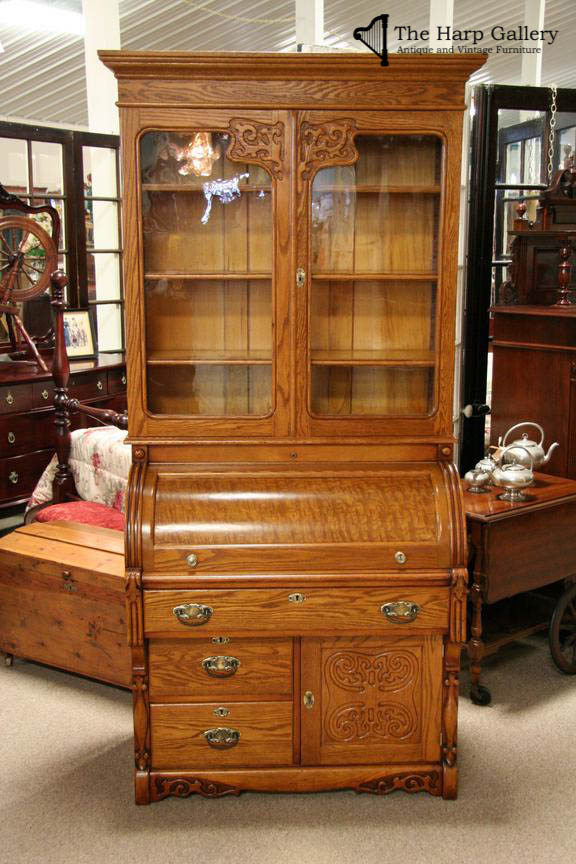 European cabinetmakers continued to produce hand-cut dovetails through the 1930's. Electric power tools, like routers and various types of saws were put into widespread use after World War II in the 1940's. There was resistance – in England, carpenters unions went on strike over the use of electric saws, fearing the end of their livelihoods. Nevertheless, by the 1950's, power tools were used in almost all furniture construction across Great Britain.
The use of hand tools and hand-cut dovetails is now the province of hobbyists and a few small shops creating authentic replicas of antique furniture. This over-view of the dovetailing techniques should easily help identification and dating of most furniture from the last 200 years.