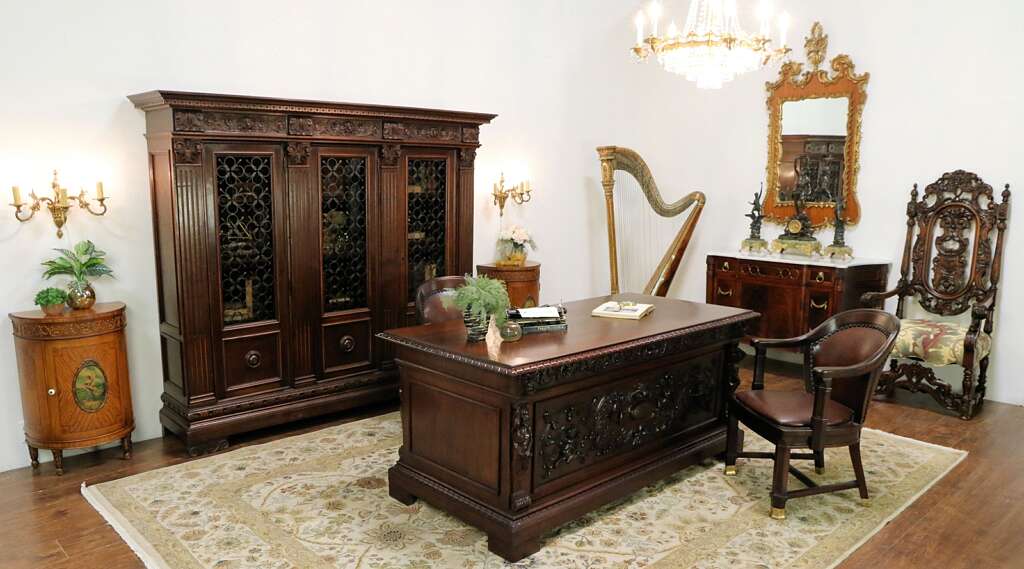 At the Harp Gallery, we strive to offer pieces and service you cannot find anywhere else. We are much more than antique dealers, we are a unique team with a passion for art, history, customer service and sustainable practices. Our mission statement, "Restoring the Past, Preserving the Future", embodies our process of restoring furniture, art, and more for modern homes. We are able to offer high quality historic furniture, stylish and durable, with enduring value.
The Harp Gallery opened its doors in 1985 in Appleton, WI. We have developed the expert restoration process we use today by combining the experience of craftsmen from many different backgrounds, including cabinetry, aircraft customization, art, auto restoration, woodworking and more! Our team works hard to combine age old techniques and new technology to preserve as much as possible, while ensuring that our pieces are structurally sound and aesthetically correct. This creative process involves teamwork and ingenuity, and a different plan is created for each item that we work on. This flexible process is only possible with the diverse staff, experience and research that we have built on for over 37 years at the Harp Gallery.
We work hard to offer high quality pieces and exceptional workmanship at affordable prices, and make a point to use environmentally conscious materials and supplies whenever possible. At the Harp Gallery we take the health of our staff, customers, and the planet very seriously. Antique and vintage furniture has a very positive effect on the environment, as recycling treasures from the past for our lifestyle today not only saves landfill space but also has many other positive "green" effects on our planet.
Recycling vintage furniture saves trees, and preserves existing beautiful old wood. Much of the finest old growth hardwood has already been cut down, and made into furniture years ago. Refurbishing these irreplaceable pieces substitutes for the cutting down of more mature hardwood trees in endangered forests. In addition, most new furniture contains particle board of some form. These are often produced in factories abroad, under suspect working conditions and contain powerful synthetic glues that bind the sawdust into man-made "wood". These chemicals release formaldehyde and other vapors not just during production, but into the air we breathe in our homes and offices for years. In addition, we source items mainly within the U.S., refurbish them here and sell them in America. This process saves the overseas sourcing and shipping of materials and furniture, reducing the transportation and carbon related impacts of your furniture choices on the climate.
Here at the Harp Gallery, we believe in our mission,  "Restoring the Past, Preserving the Future", and are pleased to be able to offer some of the most unique and beautiful furnishings the world has to offer. We are grateful to have served thousands of customers across America and abroad. As a premier source of antique furniture for the homes of today, we hope to serve you, and are always a click or call away!